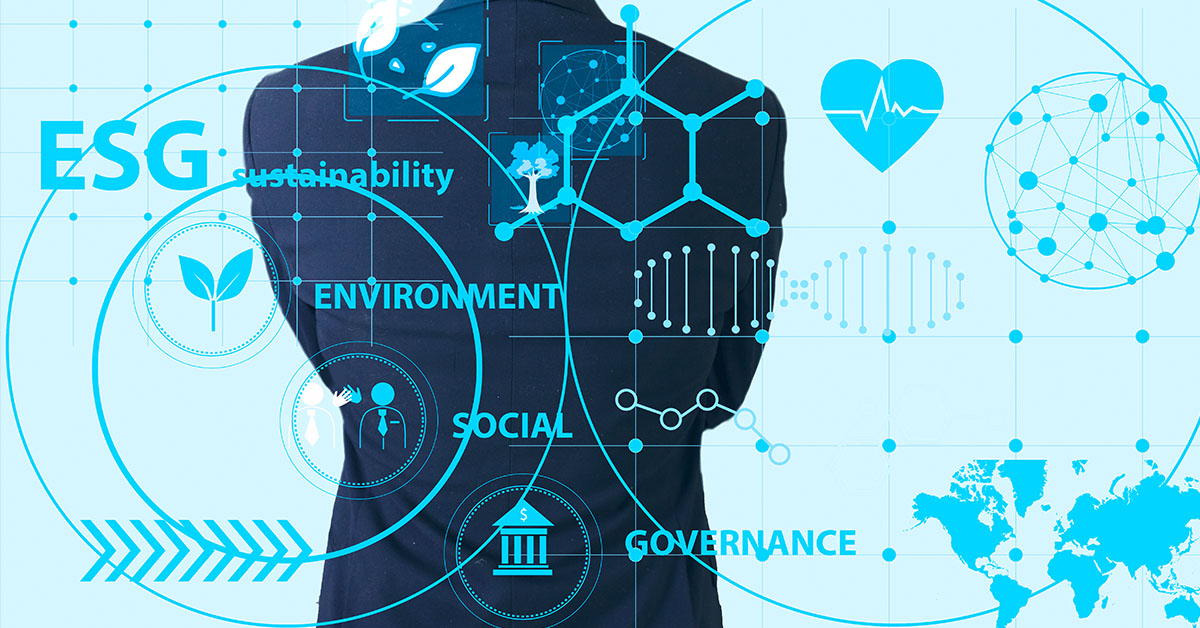 SEPTEMBER 23, 2022
Should Politicians Decide How People's Assets Are Invested?
In the hyper-politicized battle over ESG (Environmental, Social and Governance) investing, asset management firms are being demonized for sponsoring socially responsible, values based, ESG and impact investment strategies. For example, the Republican Attorney General of Arizona, Mark Brnovich, wrote recently in The Wall Street Journal that "[woke] asset managers... have joined with left-wing state pension funds to cram environmental, social and governance policies down the throats of American companies and employees..."
This summer, Texas Comptroller Glen Hegar published a "blacklist" of 10 financial firms and 350 open-end mutual funds and ETFs sponsored by other managers, charging they are part of "a perverse system in which some financial companies no longer focus on the best interests of their clients, but instead use their financial clout to push a social and political agenda shrouded in secrecy."
Indiana's Attorney General Todd Rokita issued an advisory opinion stating that investments by the Indiana Public Retirement System (INPRS) "may not, under state law, be based upon any so-called environmental, social and governance (ESG) considerations. These are activist-driven agendas intended to achieve radical environmental and social policies."
"America is now a minefield for financial companies when it comes to ESG," writes Gillian Tett in the Financial Times.
Advocates of ESG investing (most recently in a letter signed by 13 state treasurers and New York City's comptroller) counter that they are merely fulfilling their fiduciary responsibility to consider all factors, not merely financial metrics, in evaluating which investments to make for the purpose of maximizing long term returns and minimizing risk; and that doing so has resulted in "long term positive outcomes." But they are missing the opportunity to make an even more fundamental point – namely, that most asset managers are offering socially responsible investment strategies because that is what a growing percentage of their clients have been demanding for years. Global inflows to sustainable funds increased from $30 billion in 2016 to $360 billion in 2020. While interest in sustainable investing in the U.S. has trailed other nations, particularly in Europe, assets under management in U.S. listed ESG ETFs grew from nearly $83 billion to more than $144 billion in 2021. Despite the turbulent market environment in 2022, which saw many investors retreat to more familiar large cap U.S. equities (traditional energy stocks have seen notable gains as gas prices have risen), sustainable funds still attracted a net $9 billion in inflows during the first six months of the year.
By where they move their money, asset owners (the ultimate providers of capital) including sovereign wealth funds, corporate and public pension funds, foundations, endowments and individuals are signaling they want investment processes that consider ESG factors when evaluating risk and assessing return. Or investment strategies targeting specific ESG outcomes. Or both.
Unlike banks, traditional asset management firms are not principals. They are generally not committing capital off their balance sheets. They are instead agents for those who control capital. And one of the foundational roles they play as agents is, and should be, to facilitate the deployment of capital based on asset owner preferences. "Anti-ESG crusaders," as Michael Bloomberg recently fired back, "are attempting to use government to block private firms from acting in the best interests of their clients."
Writes Gillian Tett in the Financial Times, "...politicians do not need to ban ESG ideas to express dislike for them; they can simply choose not to use them."
I agree.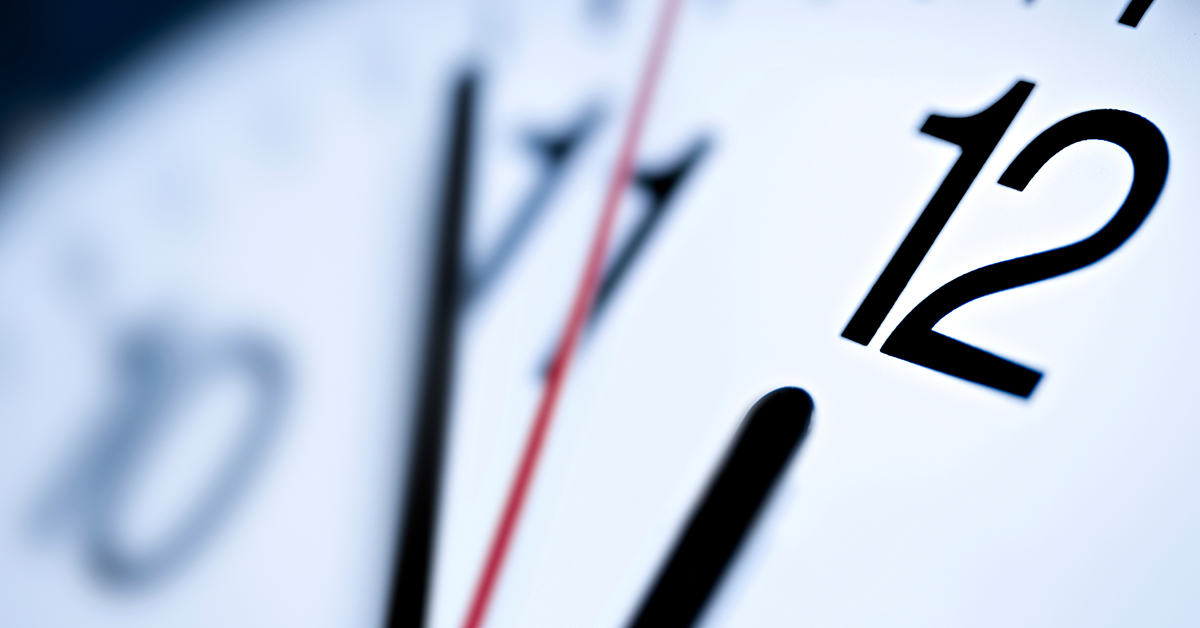 AUGUST 05, 2022
Alternative Investments: An Asset Class Whose Time Has Come?
Rising interest rates, heightened volatility and a nearly 14% drawdown in the S&P 500 so far in this year's "nowhere to hide" market have brought a new focus and urgency to the question of what role alternative investments should play in individual investor portfolios.
Institutional investors, pioneered by Yale University's late chief investment officer David Swensen, have been increasing their allocations to private assets and other alternatives for decades. Currently, the largest university endowments have approximately 58% of their portfolios invested in alternatives, according to NACUBO data. As a result, assets under management in alternatives have nearly tripled over the past decade.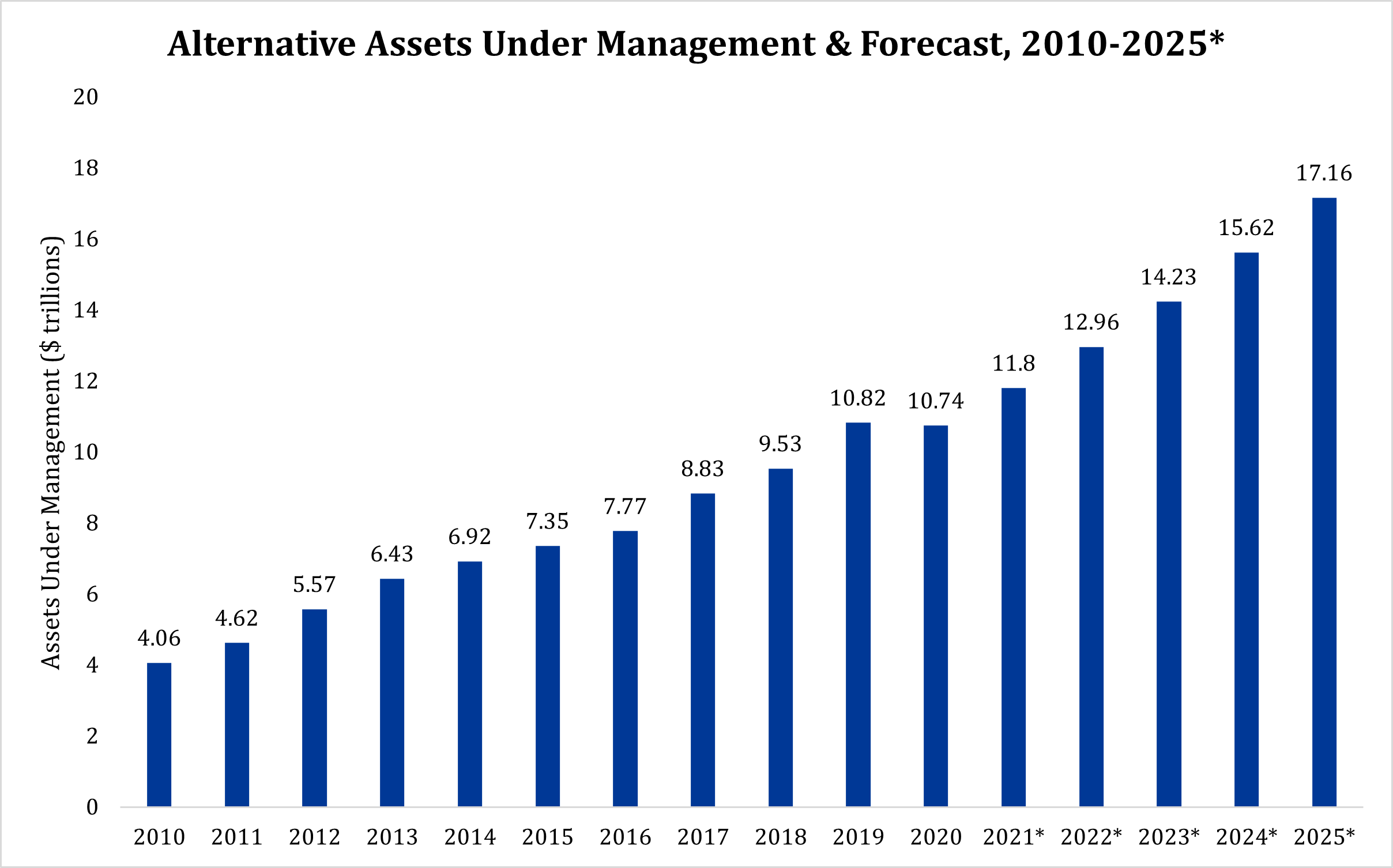 Source: Baird, Preqin data. 2020 figure is annualized based on data in October. 2021-2025 are Preqin's forecasted figures.
Generally, what works for institutional investors eventually trickles down to high-net-worth individual investors. But there are challenges to investing in alternatives at the individual level, not the least of which are their complexity, limited access, increased risk and reduced liquidity. I asked Kathy Carey, head of Baird's wealth management research team, and teammates Nic Reisenbichler and Scott Osborne to share their thoughts on this topic.
John: Kathy... Let's start with you. There's been a lot of discussion recently about the fact that the traditional 60%/40% allocation of stocks-to-bonds may no longer be optimal, and that alternative investments should play a bigger role in investors' portfolios. Do you agree with that? Has the TINA market ("There Is No Alternative") been replaced by the TARA market ("There is a Reasonable Alternative")?
Kathy Carey (KC): For decades, the bond portion of a traditional 60/40 allocation provided attractive returns even as interest rates dropped from 15% in the early 1980s to less than 1% in mid-2020. In addition, bonds generally provided capital preservation when stocks sold off. This year, it hasn't worked that way. Bonds haven't done what they're known for. Through June, the traditional 60/40 portfolio is down more than 11%.
Looking into the future, we're not expecting that the high returns we've experienced in the equity markets over the past decade are sustainable. On the fixed income side, while we've seen rates rise recently, we're still in an historically low interest rate environment.
So yes, that might lead you to look elsewhere (besides bonds) to mitigate risk and provide income.
John: Scott, would you recommend individuals rethink their portfolio allocations?
Scott Osborne (SO): It varies by investor. There's no question we're in a period where things have changed. And those two things are wreaking havoc on portfolios. I'm not sure I would say the 60/40 portfolio is dead. I would say it's "temporarily hindered." In the environment we're in, alternatives certainly present investors with opportunities. But there are risks and drawbacks. One of those is they're more complicated to understand. They may not be appropriate for investors in retirement or who don't understand a lot about investing.
John: How would you describe alternative investments?
KC: Generally, alternatives are anything other than a traditional investment in stocks, bonds or cash.
Nic Reisenbichler (NR): There are two buckets in alternative investments: a liquid bucket and an illiquid bucket. The liquid bucket contains things like mutual funds and ETFs comprised of managed futures, market neutral, long/short equities or long/short credit strategies. In the illiquid bucket are things like private equity, private debt, private real estate and some types of hedge funds. There needs to be a combination, a balance, of these two buckets when you put together a portfolio for individual investors.
For illiquid investments, you generally need to be a qualified purchaser or accredited investor to invest in them. But there are some more liquid investments such as an interval fund, that with a little extra education, clients can understand what they are investing in. Some of those may be appropriate on the margin for the individual investors.
John: What are the major reasons individuals might consider investing in alternatives?
SO: There are a few reasons:
They can help diversify the risk of traditional portfolios, since alternatives do not generally move in sync with stocks and bonds.

They offer the potential for better risk-adjusted returns and can help offer investors more stable returns and a "smoother ride."

They have the potential to offer more attractive yield or income.
The charts below illustrate the potential benefits of moving 10% or 20% of a traditional portfolio into alternative investments:


Source: Baird. Performance figures are for the 20-year period ending December 2019. Past performance is not a guarantee of future results. Stocks are represented by the S&P 500 Index. Bonds are represented by the Bloomberg Barclays Aggregate Index. Alternative Investments ("Alt Inv") include a one third allocation to Hedge Funds (HFRI Fund Weighted Composite Index), one third to Managed Futures (Barclays CTA Index) and one third to Private Equity (Cambridge Associates LLC U.S. Private Equity Index®). See page 3 for a more detailed description of these indices. It is not possible to invest directly in an index.
John: What are the drawbacks?
SO: Most alternatives offer only limited or periodic liquidity. This means you might only be able to exit your position once per quarter, or once a year, or perhaps not for a decade. They may be less transparent, which makes them harder to understand and to monitor. Illiquidity and leverage can add to investment risk.
John: Are people looking for more income than getting from their bonds? Or are they looking for things that aren't correlated with equities?
NR: Yes to both of the above... but with an emphasis on income, and as an income alternative to fixed income. But given their increased risk, they shouldn't be a replacement for your US Treasury bonds. Fixed income always has a place in investors' portfolios, because, as they say, "A bad year in the bond market is a bad day in the stock market."
KC: We are seeing more interest from financial advisors in alternatives. This is the first time in a long time that we're having conversations about this asset class.
NR: Last year was a record year in terms of inflows into alternative investments at Baird. We've already surpassed that this year (in 2022). Private real estate has seen the most flows, along with private debt. And private equity is always popular.
KC: It seems people think they can understand private equity and real estate. Maybe that's where the interest in those two types of assets come from.
NR: We've also seen a big increase in managed futures.
John: One of the issues smaller investors have had in the past is access. It's harder for them to invest in the suite of strategies that large institutions can invest in. Since dispersion of returns between the best managers and worst managers is wider in private markets than in public markets, that has in the past translated to reduced return opportunities for high-net-worth investors. Is lack of access still a problem?
SO: It used to be a major issue. It was hard for high-net-worth investors to get access to funds if they didn't have $5 million or $10 million to invest.
Over time, platforms have been developed (like CAIS, which Baird uses) that allow individuals access to high quality managers across many different asset classes and product types. Also, product innovations like funds of funds or interval funds have allowed smaller investors to get access to top-tier managers.
KC: Still, manager selection is very important. You need to make sure appropriate due diligence and monitoring are performed to help avoid picking a manager that produces disappointing returns.
John: Is it fair to say there has been a "democratization" of alternatives over the past few years?
NR: Absolutely, because of platforms like CAIS or iCapital.
KC: I'll admit that when we first started working with CAIS, I had some questions about why some of the best managers wanted to dip into the retail space. But from their standpoint it makes sense because they diversify their investor base and potentially get assets that are a bit more "sticky" than those associated with institutional clients.
SO: There are more and more product types being offered to high-net-worth investors, so that's good news for those investors going forward.
KC: Yes, more opportunities. But because alternative investments are complicated, investors need to be educated. Since there are so many different types of alternatives, investors need to think hard about what they are trying to achieve to narrow the list of choices. If you want higher yield and income, it's best to focus on private debt and private real estate. If you want protection from inflation and rising interest rates, focus on private debt, private real estate and managed futures. If you want equity-like returns with lower risk, look at equity-oriented hedge funds.
Thank you, Kathy, Nic and Scott.
Past performance is not indicative of future results and diversification does not ensure a profit or protect against loss. All investments carry some level of risk, including loss of principal. An investment cannot be made directly in an index.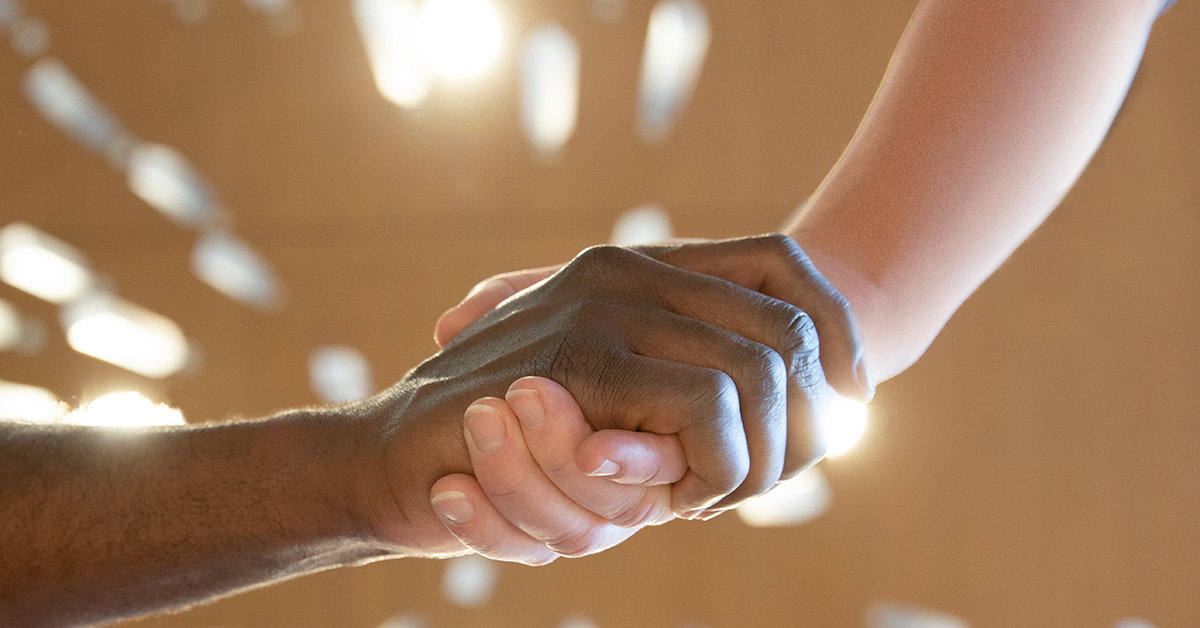 JULY 14, 2022
Empathy and Allyship
Two years ago, shortly after George Floyd was murdered in my home city of Minneapolis, I was asked by Baird CEO Steve Booth to join my colleague Mary Ellen Stanek in co-chairing a newly formed Special Task Force, the purpose of which was to bring Baird's longstanding inclusion and diversity efforts to a new level of intensity and impact.
It was an honor to have been asked. More importantly, it has been a privilege to have served; because, as a result of that assignment, I am a different person today than I was two years ago. Different in terms of my understanding of and connection to issues of race in America. Different also in my heart. Perhaps most importantly, different in my commitment to deploy for the benefit of others the advantages into which I was born... by being a better ally to the diverse people in my life.
I have served for decades on the boards of foundations and not-for-profits grappling in one way or another with issues of race-based disparities. But because of my service on Baird's Special Task Force I am more educated today than I have ever been on the history of race in America. Along with colleagues at Baird, I participated in listening sessions and in our Bridge Builders reverse mentoring program, attended training sessions on unconscious bias, participated in two Executive Committee retreats dedicated to inclusion and diversity and engaged in many hours of conversation, research, debate and discussion.
When I'm asked why we should continue spending all the time and energy we are investing in inclusion and diversity or whether we're "overdoing it," I return to what's at the core of our commitment to inclusion and diversity: our associates' experience. Then I reflect that one of the most important ways that I, and others like me, can contribute to Baird's inclusion and diversity efforts is to be better, more intentional allies to and for our diverse colleagues. As Emmanuel Acho, former NFL player and a best-selling author, put it at Baird's Multicultural Conference in Nashville, "to use privilege for the benefit of those who don't have it."
A recent article in the Harvard Business Review titled "Be a Better Ally" suggests that allyship by an organization's senior leaders – "[promoting] equity in the workplace through supportive personal relationships and public acts of sponsorship and advocacy" – has become essential for firms who aspire to do inclusion and diversity well.
What would make anyone want to be an ally? The answer, as former NBA basketball player and diversity advocate John Amaechi suggests, is empathy – an emotional connection to and a desire to help others. Empathy is developed through intentional social and professional interactions with people who are different from ourselves. Empathy starts with the head, but it ultimately resides in the heart.
So, I encourage you to look around and work to be more aware of individuals who could benefit from the advantages and influence associated with your standing in society or your workplace. Challenge yourself to use those assets in ways that can help others achieve their own potential and fulfillment. As much as anything we can do, empathic allyship can help us advance on our collective inclusion and diversity journey.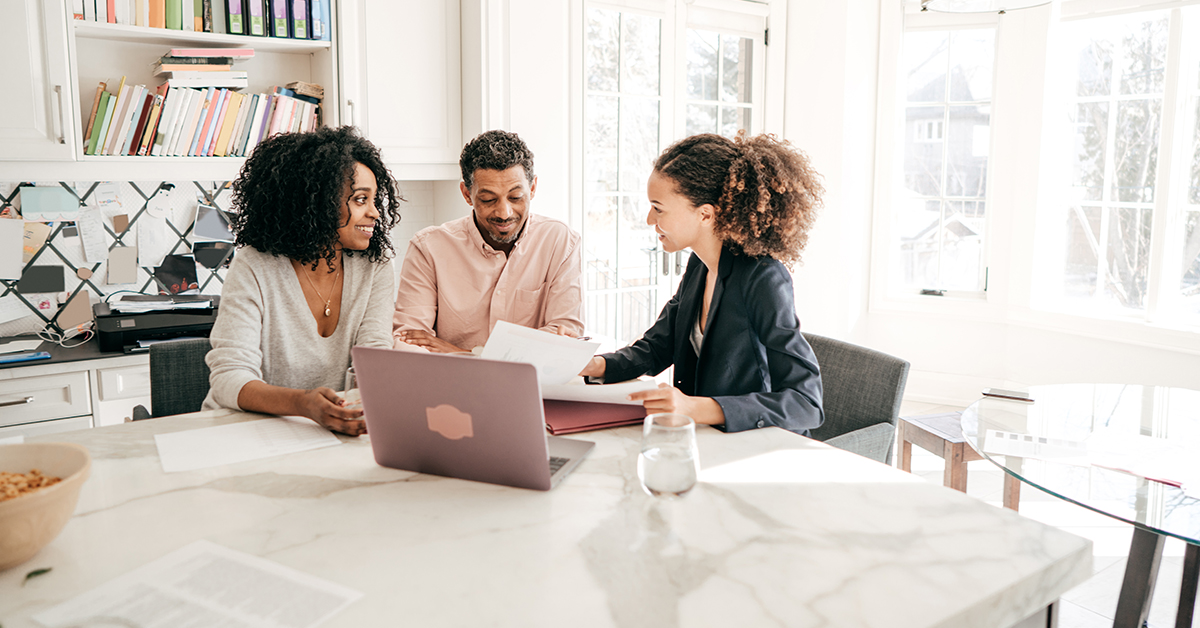 JUNE 15, 2022
Pioneers in Planning
Following the recent closing of Baird's merger with Pittsburgh-based Hefren-Tillotson, I sat down with Hefren's CEO, Kim Fleming, to talk about her firm's unique history and commitment to planning as a core tenant of wealth management. I have known Kim for more than a decade through speaking engagements and through our mutual service on industry associations, and have always found her to be a passionate advocate for a planning-centric approach to meeting the needs of clients, and a deeply principled steward of the business her family founded and operated for the past 75 years. Here are excerpts from our conversation.
I've always thought of your father, Williard ("Bill") Tillotson as a pioneer in financial planning. Would you agree with that?
Absolutely. Dad was visionary when it came to the importance of planning. He believed in it at a time, in the 1950s and 1960s, when the term "financial planning" wasn't even used, or at least not very commonly.
He joined his father-in-law's firm, Arthur R. Hefren & Co. as it was known then, in 1958, which at the time was a traditional brokerage firm offering stock, bonds and mutual funds on a commission basis. Before that he was in the insurance business, where he saw and experienced the importance of gaining a full understanding of a client's financial situation. He did not feel comfortable talking to someone about their insurance needs without seeing the whole picture and he felt the same way about investments. That was the insight behind what he called "Masterplan" – getting all the information you could about a client or prospect before offering advice.
When I joined Hefren-Tillotson in 1987, only about 40% of our advisors were regularly doing Masterplans. Many did not believe people would share so much personal information. My father felt strongly that they would when they understood why it would benefit them.
What is "Masterplan" and how has it changed since your father developed it?
The core issues addressed by Masterplan really haven't changed much since the 1960s. It still starts with a net worth statement and goes through estate planning, insurance review and recommendations, education and college funding and of course retirement planning and investments. We also often provide guidance on charitable giving and business and succession planning. In the beginning (the b1960s), Masterplan was a written report produced on a typewriter, then a word processor. What has evolved is the ability to gather client information in a way that's easier for clients and more complete and efficient through the use of technology. We adopted state-of-the-art planning technology a few years ago but until then we were still producing Masterplans using our own custom spreadsheets and documents. We wanted to keep the plan focused on the main issues and provide specific recommendations.
Of course, tax laws have changed over the years. Back in the 1960's, it was possible to show clients really meaningful savings just by retitling assets.
I wasn't in financial services in the 1960s. But when I entered the business in the 1980s, it felt like "financial planners" were looked down on in some ways by brokers. They were viewed as a more pedestrian advice channel. Today of course, the inverse is true. Planning is integral to wealth management and fiduciary-quality advice and "brokers" are at the bottom of the business model table. Do you agree with that?
That's very true.
Hefren-Tillotson's business model is unique. Can you talk about that?
Everybody talks about planning. But still a lot of firms don't fully embrace it or have the process in place to do it right. Or it isn't being widely used because there isn't an "all in" commitment to planning. Doing planning right requires total commitment. One of the things my brother, Craig Tillotson, says is "Lots of firms say they can do planning. But at Hefren-Tillotson, it's what we do."
The development of advisors through early experience in our planning department has been a major contributor to our growth. We hire college students between their junior and senior years as interns, then look for the best to hire into our planning department when they graduate. They typically work there for five years before moving into the role of financial advisor. These advisors understand that planning is foundational to the way we work with clients and it provides the basis for truly meaningful relationships.
It's important to remember that planning – the initial Masterplan – is only the beginning step. It remains active and needs to be reviewed and updated. We incorporate this into client reviews every time we meet with clients.
Our CEO, Steve Booth, says he believes your financial advisors are so effective because they have come out of your planning department with "a superpower" – their planning skills and expertise. Do you think that's true?
What I've always liked about planning is that it enables you to build close relationships with clients. The depth of client relationships that comes from working with someone in an intimate way during very significant life events. Becoming, truly, clients' most trusted advisors. It's a career that is really rewarding. And it doesn't happen in the same way if all you're talking to people about is their investments. Having a conversation about estate planning, for example, really allows you to learn about how clients feel about their families. It's fun to be part of those considerations and to offer practical advice. And sometimes it can be a prompt for important changes in how family members relate. For example, some clients never considered contributing to their grandchildren's education until they went through Masterplan. When they find out they can afford to give money to other family members, that can and does lead to very significant changes in family relationships.
What do you see as the future of financial planning over the next, say, five years?
I think technology is going to continue to enhance our ability to get information, to aggregate that information and to present it in ways that are easy for clients to access and review interactively with us. We see the possibility for tax laws to change. If estate tax provisions sunset as scheduled in 2026, that's going to create a tremendous need to review and update plans for high-net-worth clients. There may be a need to develop new capabilities as our clients get older and have a need for services that can simplify their lives.
The pandemic opened the door for us to have conversations with our clients without being together in person using various types of technology. These new capabilities make the possibility of developing a broader universe of clients and prospects even more likely. They also have made it easier to connect with the next generations of our clients' families when they are not local. We are very optimistic about the continued need for experienced, knowledgeable advice and the career opportunities in our industry.
Thank you, Kim. Welcome to Baird.
A Powerful Combination: Hefren-Tillotson and Baird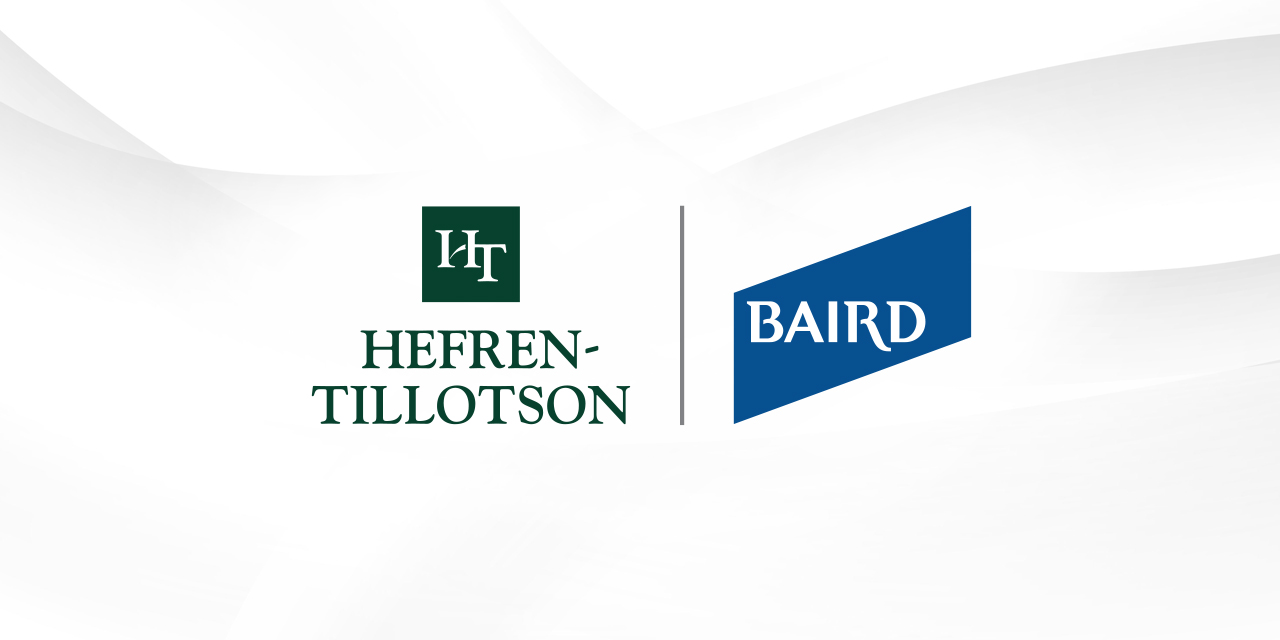 Podcast: Kim Fleming on HER View from Here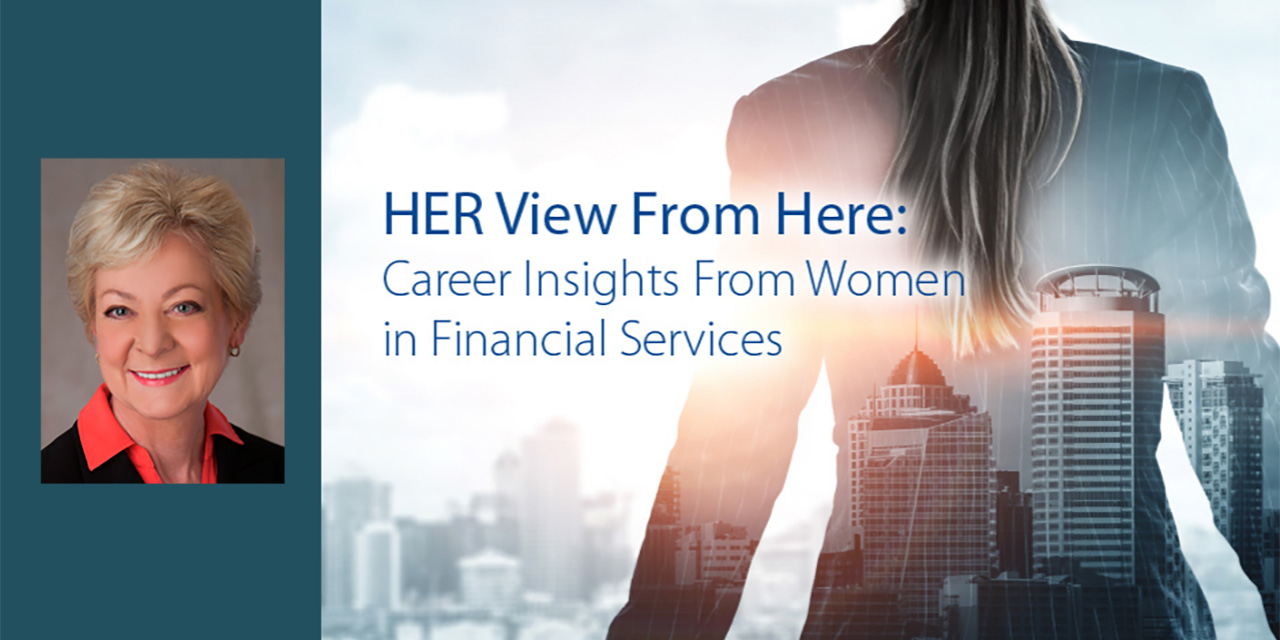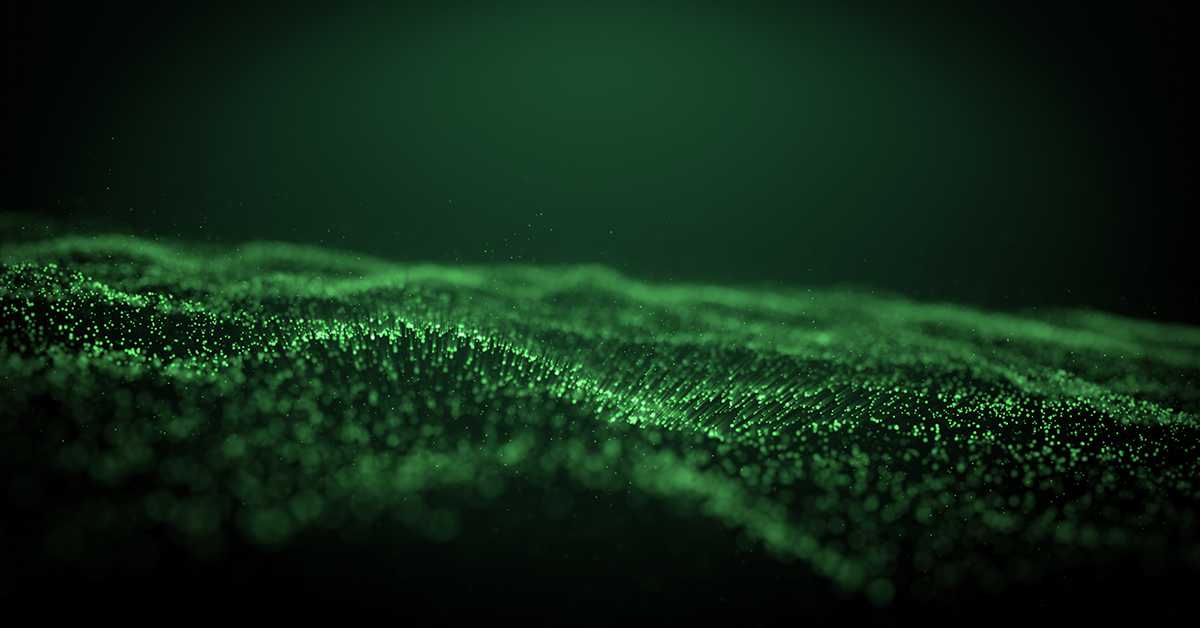 APRIL 06, 2022
Et Tu, MSRB?
Defining ESG Disclosure in the Muni Market
The U.S. Securities and Exchange Commission (SEC) took up all the oxygen in the proverbial financial regulatory room two weeks ago with its proposal to mandate climate disclosure for publicly reporting companies. (I will have more to say about that in a future blog.) But what went almost unnoticed was a parallel foray into climate disclosure by another financial regulator, the Municipal Securities Rulemaking Board (MSRB), which earlier this year issued a request for information on environmental, social and governance (ESG) practices in the municipal bond market.
The Securities Industry and Financial Markets Association (SIFMA) and the American Securities Association (ASA), in both of which Baird is a member, filed comments letters with the MSRB that capture fairly comprehensively the issues raised by potential ESG disclosure regulation in the muni market. (SIFMA letter; ASA letter.)
Both the SEC's proposal and the MSRB's request raise the same critical and fundamental policy issue: What is the proper role of financial regulators when it comes to ESG disclosures? Do they have the legal authority to mandate ESG disclosures without explicit authority to do so delegated to them by Congress (which none of them have)?
In the muni market, the issue of prescriptive ESG disclosure is further complicated by a couple of additional factors.
First, it would be enormously difficult to implement in an effective manner. That's because there are an approximately 50,000 state and local government entities, not including many not-for-profit or other obligors, that raise capital by issuing municipal bonds (as opposed to about 4,000 public companies) and a staggering one million bonds outstanding. There are widely varying risks and exposure considerations between different types of governmental units and geographies. As the Government Finance Officers Association wrote in a letter to the SEC, "the notion of developing a uniform set of metrics to evaluate risks is so impractical as to be virtually impossible."
Then, consistent with our country's foundational principle of federalism, there's the historical reluctance of Congress to regulate the activities of states and their political subdivisions. As officials from 23 states contended in a comment letter to the MSRB, the request for information "thwarts Congress's decision to leave states free from bureaucratic securities supervision." "The MSRB needs to stay out of this area," Utah State Treasurer Marlo Oaks told The Bond Buyer.
The irony in this situation is that municipal bonds are the original socially responsible, green, ESG-focused securities. U.S. Treasury and IRS rules have long required tax-exempt municipal bonds to be issued for a public purpose. Municipal bonds finance parks and greenways, energy efficient improvements to schools and hospitals, mass transit development and water management systems, the environmental and social impacts of which are fairly obvious.
Clear, factual disclosures by state and local government borrowers as to how bond proceeds are going to be used and the impact they are going to have on real people living in real communities in the real world, are far more important to investors than adding ESG labels without clarity or consistency as to what they mean.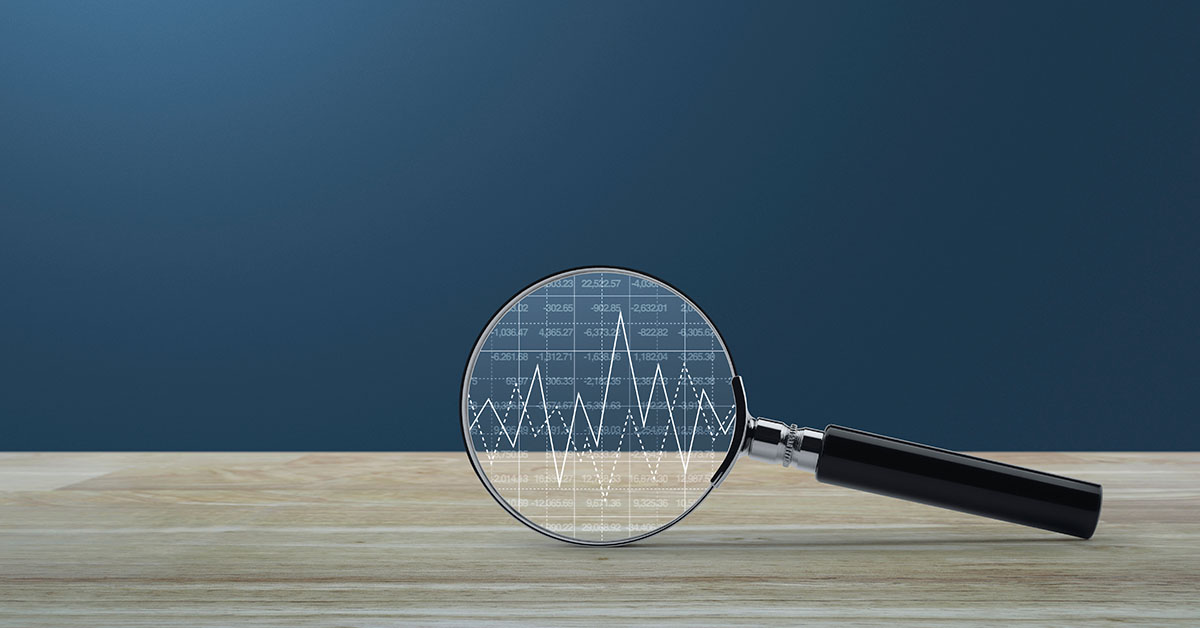 MARCH 23, 2022
Death, Taxes and... Demographics
Benjamin Franklin is credited with saying, "In this world, nothing can be certain, except death and taxes." But savvy long-term investors know they can add demographics to the list.
With inflation annualizing at 7.9% (according to the Consumer Price Index), a 25 basis point increase in the Fed funds rate with six more likely on the way, the 10-year U.S. Treasury bond yielding roughly 2.4% and home mortgages rates over 4%, all eyes and ears are focused on the economic impact of a hike in interest rates. Yet two recent articles in The Economist suggest that the demographic trend of global aging is likely to keep a cap on interest rates over the longer term.
My colleague Warren Pierson is Co-Chief Investment Officer at Baird Advisors, which manages $130 billion in bonds for institutional and individual investors. I asked for his take on the potential effect of U.S. age demographics on inflation. Here is what he had to say:
We believe/agree that aging populations and the associated increase in retiree savings will work to limit increases in interest rates around the world going forward. We think many strategists have continually underestimated/underappreciated the strength of these demographic trends. Retirees tend to save more and spend less and we believe that is part of the reason why the Fed's extraordinary stimulative policies over the last decade-plus did not produce the inflation that so many were eagerly anticipating. Instead of being lent and spent and greatly stimulating the economy, much of the easy money was simply invested and the only inflation that resulted (until recently) was in financial assets.
The COVID fiscal stimulus changed that as dollars were given directly to many individuals that had immediate needs who spent it, giving a big boost to our economy and creating demand-led inflation. While strong demand led to much of the inflation we are seeing now, a lot of the price increases (goods and labor) are more related to supply disruptions. While it is taking longer than expected to right many of these disruptions, we do believe market forces will correct them over time and inflation will eventually settle in much closer to the Fed's desired target of 2+%.
Another demographic consideration is the aging population's effect on the labor pool. Some estimates suggest that about 60,000 baby boomers are currently retiring each day in America. While that number might not be precisely accurate, the trend is clearly happening.
The chart below shows how the percentage of our population that is over 65 has grown and will continue to grow for the next decade plus. The lower panel also shows that our country's population overall is barely growing.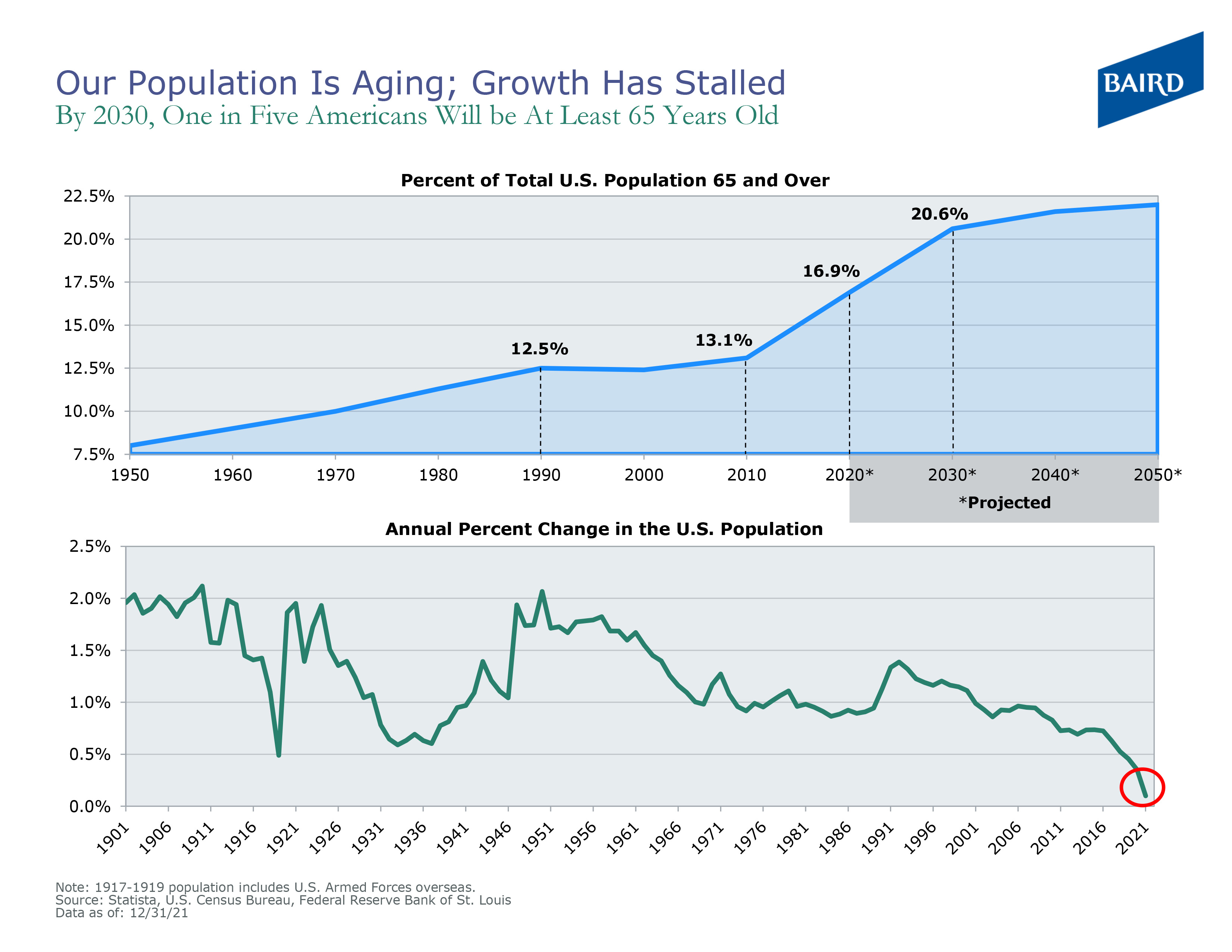 As a result, our labor force is barely growing (see top of chart below). Combining the growth in our labor force with productivity (bottom panel below) is another way of defining how fast our economy can grow.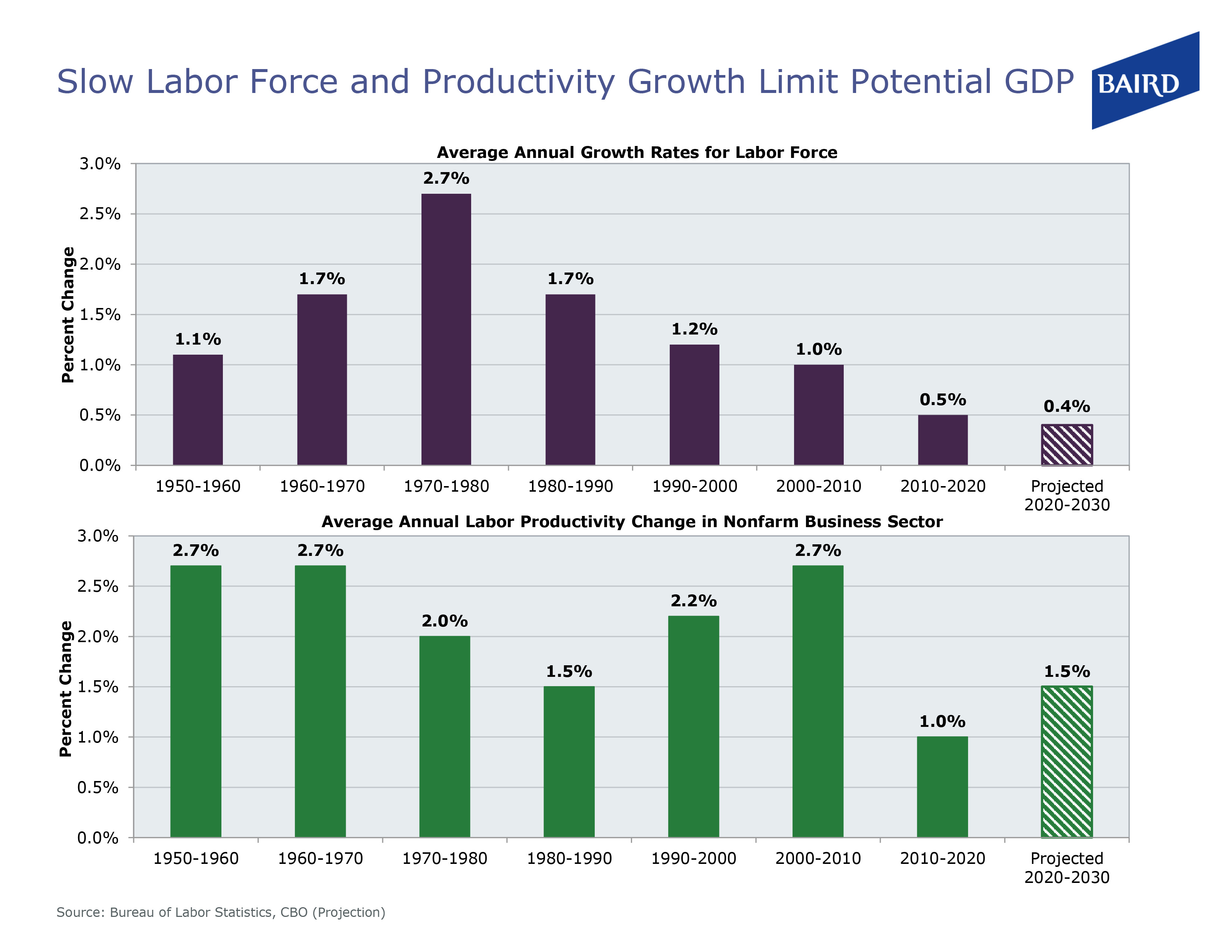 Add these two estimates together and you get a long-term growth potential of about 2% – hardly inflationary. This is a major tenet of our thesis that interest rates will stay lower longer than many people think.
Many contend that the current environment feels a lot like the late '70s and early '80s. While we agree there are similarities in government policies, look at the difference in the large growth of our labor force from the '50s to the '80s. Not only was our country's population growing, but we also had many women leave their traditional homemaker roles and join the work force. That huge growth in the work force and big gains in productivity fueled much stronger growth that in turn led to higher inflation. We don't believe our economy has that same long-term inflation-generating potential for the foreseeable future.
What is the takeaway?
In the short run, the volume of retiring Boomers is contributing to a current labor shortage that is putting upward pressure on wages. Baird's take is that this increase in wages, which has been more focused on lower paying jobs, has been a very appropriate and much needed one-time adjustment or catch-up for workers whose wages have been largely stagnant for the past decade. We believe these wage gains will stick and hold. We also believe it is unlikely that such a large uptick will repeat. We feel the same about the price gains of many goods and services (e.g. cars, houses). That is, prices are not falling back, but also probably not advancing much further from current levels any time soon.
The evidence points to some significant differences between the cause of today's inflation and the factors at play in the 1970s, the period to which so many are drawing comparisons. The long-term effect of demographics is likely to be lower, not higher, interest rates.
MARCH 16, 2022
The Investment Case for Diverse-Owned Managers
When it comes to aligning your investments with your values, Marcia Page holds a place in my personal Hall of Fame.
I met Marcia through serving together on the Board and Investment Committee of The Minneapolis Foundation. Marcia co-founded and now serves as Executive Chair of Värde Partners, an institutionally focused, $14 billion global alternatives investment firm. But for the past four years, she has been working to create and launch MPowered Capital, which targets private minority investments in asset managers with diverse ownership. Marcia has already invested $25 million of her personal capital in MPowered's first fund and will ultimately commit $75 million alongside limited partners (LPs). Baird is also an investor in MPowered.
I recently had the opportunity to talk to Marcia about the landscape for women and diverse professionals generally in asset management and across the financial services industry.
Here are excerpts from our conversation:
What was your motivation in creating, and in providing such significant personal financial support, for MPowered Capital?
Page: I have had the most amazing 30+ year investing career. When I stepped down from the Co-CIO and Co-CEO role at Värde Partners at the end of 2015, I was dismayed at how little progress the industry had made in recruiting and retaining more diverse talent on their investing teams. I started by researching and working on ways that investment organizations can attract, retain and promote a more diverse employee base as well as thinking about ways to influence the industry to accelerate change. About three years ago, it became clear to me that one way I could use my experience, resources and influence to effect change was to invest in and back diverse talent. The idea for MPowered Capital has been several years in the making, and I couldn't be more excited about the opportunity set and amazing talent we are underwriting today.
When you started Värde Partners, did you have an angel investor or financial sponsor that took a special interest in backing you as a woman?
Page: No, just personal savings from the three founding partners. I still have a copy of my first Värde paycheck – which took nearly three years to achieve!
Were there any gender-specific hurdles you faced in starting and growing Värde?
Page: Not in a material or overt way, perhaps aided by the fact that Värde's two other founding partners were men and that I was in a position to commit capital directly.
You talk about the fact that diverse managers have been "underrepresented and under-capitalized." Can you expand on that?
Page: Diverse talent accounts for just 10% of total investment management firms and managers a mere 1.4% of institutional assets under management in the U.S. asset management industry. According to a 2018 study by WillisTowersWatson, the number of female fund managers around the world has remained stagnant for two decades at around 14%. A combination of structural forces and unconscious bias have created a circular conundrum. Capital has accumulated amongst established firms. LPs tend to reinvest capital with existing managers and, as limited partnerships have grown in size, LPs are committing larger amounts to maintain their allocations. There is a desire to invest with "people like ourselves" – it's human nature. The lack of portfolio "fit" – meaning considerations like first time funds, constraints in size (too small) or length of track record (too short) inhibit investments in diverse managers. As a result of many factors, research has shown that women must outperform to achieve the same assets under management as men.
Why do women and other diverse talent need the kind of support MPowered Capital offers?
Page: The combination of alpha generation and lack of capital flows to diverse investing talent creates what we believe is one of the most inefficient markets for capital formation in existence today. Importantly, to be successful in the market, investors need a unique set of skills to address the specific issues that give rise to this opportunity set. First, investors have to approach opportunities with flexible capital solutions. MPowered has several investing strategies in its portfolio, each of which are designed to address specific capital pain points in this emergent manager landscape. Equally important, in our opinion, is MPowered's ability to provide strategic advice to accelerate firm building and fund formation. We believe the MPowered team, coupled with its affiliations and network of service providers, can help propel managers through the critical start-up and early fund formations phases of their organizations.
Baird Financial Corporation is a limited partner investor in MPowered Capital's MPowered Access Fund I; Baird Capital is not affiliated with MPowered in any way.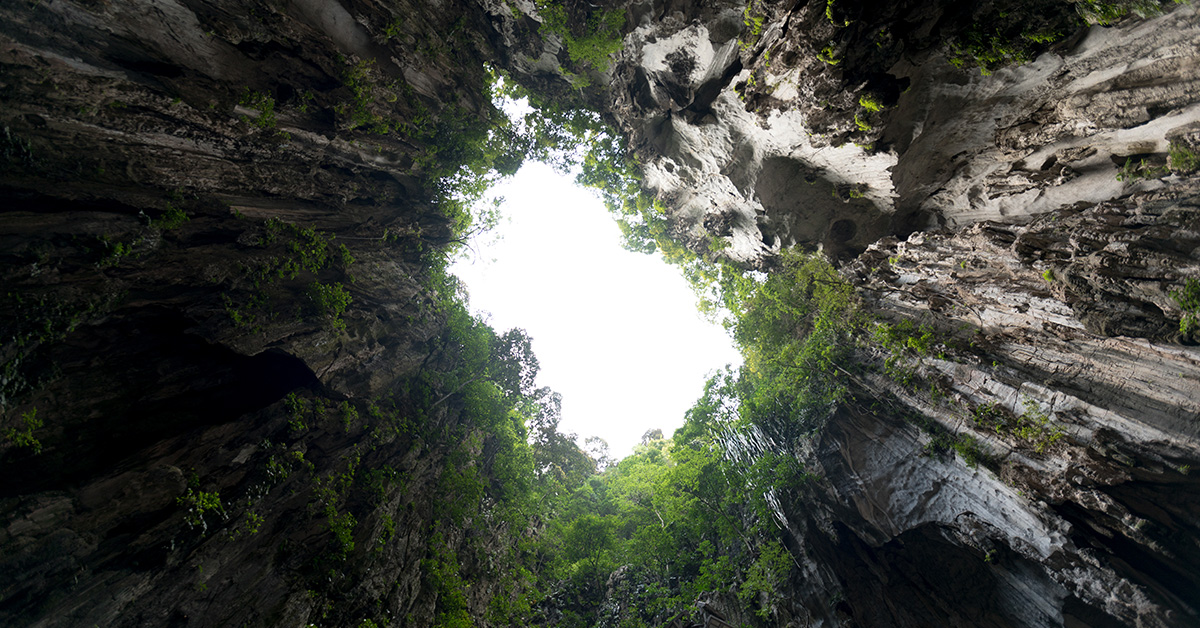 JANUARY 31, 2022
Are We Really Facing a "Purgatory" of Low Returns?
One of the things I admire about famed "permabear" Jeremy Grantham and the asset management firm he founded, Grantham, Mayo, & Von Otterloo (GMO), is their commitment to putting forecasted future returns for different asset classes right out there in the public square, so to speak. Recently, Grantham made headlines with his latest call for a reversion to the mean from today's "superbubble" in financial assets, which he describes as the "most dangerous breadth of asset overpricing in financial history."
But what may be even more concerning is GMO's predictions for how capital markets will behave over the longer term.
Per GMO, only two of 11 asset classes will earn investors positive returns over the next seven years – both in emerging markets. Large-cap U.S. equities are expected to be the worst performers, with a return of -7.3%. U.S. bonds won't provide a safe haven, with an estimated decline of -4.1%. Even cash will lose the race against inflation, with a forecasted return of -1.1%.
Grantham and GMO have been famously wrong before. But if they're even a little bit right, that would be very bad news for the modern global system of financial capitalism. So much of our daily lives and the organizations we belong to and rely on are leveraged to positive real returns on financial assets. Pension funds, for example, are designed around the premise of long term returns. Universities, schools, museums, hospitals, count on drawing on their endowments into perpetuity to supplement their earned income. Individual defined contribution accounts, now the primary retirement savings vehicle for most Americans, don't serve their purpose if investment returns don't outpace increases in the cost of living (including healthcare). The operating models underlying all of those assume positive real returns. And for the last decade, since the Great Financial Crisis, capital markets have delivered. Big time.
Last week's heightened market volatility further underscores the consensus concern that those recent returns haven't been driven as much by fundamental economic growth but instead by artificially low interest rates and easy access to capital (the result of accommodative monetary policy and stimulative fiscal policy,) which have in turn boosted valuation multiples to the point where they are "largely flashing red" (as my colleagues at Strategas wrote this week). Large-cap equities, as an example, are trading at more than 22x forward earnings, a level from which, historically, the next five years of nominal performance has averaged only 1.7%. As the Fed begins to raise interest rates and moves from buying bonds to shrinking its balance sheet, the proverbial music may be about to stop.
Maybe.
I take some solace from an article of GMO's former gurus, James Montier, wrote entitled "The Purgatory of Low Returns." In it, he bemoaned "This might just be the cruelest time to be an asset allocator. Normally we find ourselves in situations in which at least something is cheap... However, today we see something very different... today's opportunity set is characterized by almost everything being expensive... this is a direct effect of the quantitative easing policies being pursued by the Federal Reserve and their ilk around the world."
Does that sound like what we're hearing today? Well... the date of that article is 2013.
Since then, the MSCI U.S. index has delivered an annual rate of return of over 16%. More typically diversified investment portfolios have also delivered strong returns over that same time period, well above the 7% required to fund operating draws and grantmaking activities and preserve portfolio principal.
The consensus forecast may be for single digit equity returns this year, but as Strategas CEO Jason Trennert notes, "That doesn't actually happen all that often". Only three times in the past 13 years, in fact. Longer-term forecasts are even more suspect.
Short of trying to time the market, which is a fool's undertaking, the best defense against low future returns may just ultimately be banking the positive returns you've generated in the past – which have been plentiful – and counting on them, as individual investors and societally, to get us through the lean years we might be about to face.
OCTOBER 22, 2021
Welcome to the Meta-DeFi-Crypto-Verse Economy
Mary lives on a five-acre farm near Seattle with her three horses, two cats and a flock of chickens. At the age of 41, she makes her living in the real world as a farrier, shoeing horses – for which she dropped out of the world of commercial finance, giving up careers on Wall Street and in fintech.
To supplement her equestrian income, Mary trades digital assets. She owns, for example, a non-fungible racehorse token that she enters in online races in the metaverse, a reality parallel to our own which has been described in the Wall Street Journal as "an extensive online world transcending individual tech platforms, where people exist in immersive, shared virtual spaces."
Tech companies, particularly Facebook, have hailed the metaverse as the next evolution of the internet, with CEO Mark Zuckerberg highlighting his intent to turn Facebook into "a metaverse company" on a recent investor call.
When her NFT horse wins, Mary gets paid in some form of digital currency, to be converted into fiat currencies, or redeployed into more online assets.
"I trade assets in the digital world to support my life here in the real world," she told me. "My goal is not to have to work in the real world at all."
Mary belongs to a growing legion of metaverse denizens for whom digital currencies and markets are just as relevant as the fiat currencies or the New York Stock Exchange.
In 2020, when COVID-19 shut down the economy in a rural province of the Philippines, a gaming entrepreneur named Gabby Dizon began lending our characters in a game called Axie Infinity. Members of his community used those characters to earn tokens in the game, which could then be exchanged for local currency. The game caught on quickly in the Philippines, where players can earn a multiple of the local minimum wage.
Thus began the phenomenon of "play-to-earn" and the creation of Yield Guild Games ("YGG"), with more than 1.5 million daily active users (an estimated half of whom are from emerging markets) having earned over $8 million by "combining NFTs, DeFi and gaming to deliver ... a new model of employment in the Metaverse."
Announcing $4.6 million investment in YGG, venture capitalists Andreessen Horowitz pointed to "a largely untapped economic opportunity in emerging markets to provide jobs by building a virtual economy in the digital world."
How far we have traveled in a short time from the world view of former Federal Reserve Chairman Alan Greenspan, who once said: "You really have to stretch your imagination to infer what the intrinsic value of Bitcoin is. I haven't been able to do it."
For the Greenspans of the world, blockchain technology, decentralized finance, non-fungible tokens and the economic activity they are making possible are as intellectually impenetrable as quantum physics. The headline of a recent issue of the Economist focused on decentralized financed borrowed aptly from Lewis Carroll's Alice in Wonderland: "Down the rabbit hole."
Critics have described it as "totally self-absorbed, all about providing different ways for people to speculate on cryptocurrencies." "A solution in search of a problem." "The financial services equivalent of self-driving cars that can do just about everything but stop at red lights." One commentator joked, in a recent column, "Maybe one day DeFi will find a real use."
Well... it already has.
On a wealth- and asset-weighted basis, the Greenspans of the world control most of the assets and operating companies supported by our financial system. But the future of finance belongs to the Marys and the Gabby Dizons, for whom the appeal of digital finance is precisely the fact that it exists outside or alongside the world of conventional finance and centralized institutions.
The potential benefits of this alternative system, according to the International Monetary Fund, lie in creating "more inclusive financial services." Or as the New York Times puts it, "Crypto finance gives people long excluded by traditional institutions the opportunity to engage in transactions quickly, cheaply and without judgement."
The biggest negative is that the system as it exists today is rife with outright criminal behavior: fraud, manipulation, abuse, money laundering.
Meta-DeFi-Crypto-Verse finance is clearly here to stay. And as YGG demonstrates, it even has potential to be a force for good. But to realize its full potential, it needs to integrate into the conventional financial, legal and regulatory infrastructure that undergirds financial capitalism.
"If it's going to have any relevance in five to 10 years," SEC Chairman Gary Gensler has said, "It's going to have to be within a public policy framework."
The challenge will be how to accomplish that without squashing energy and the torrent of innovation behind this latest iteration of alternative finance.
Baird does not currently recommend the purchase of cryptocurrencies, products that attempt to track cryptocurrencies or cryptocurrency custodians and won't until there are more secure and cost-effective ways to gain exposure to this asset class.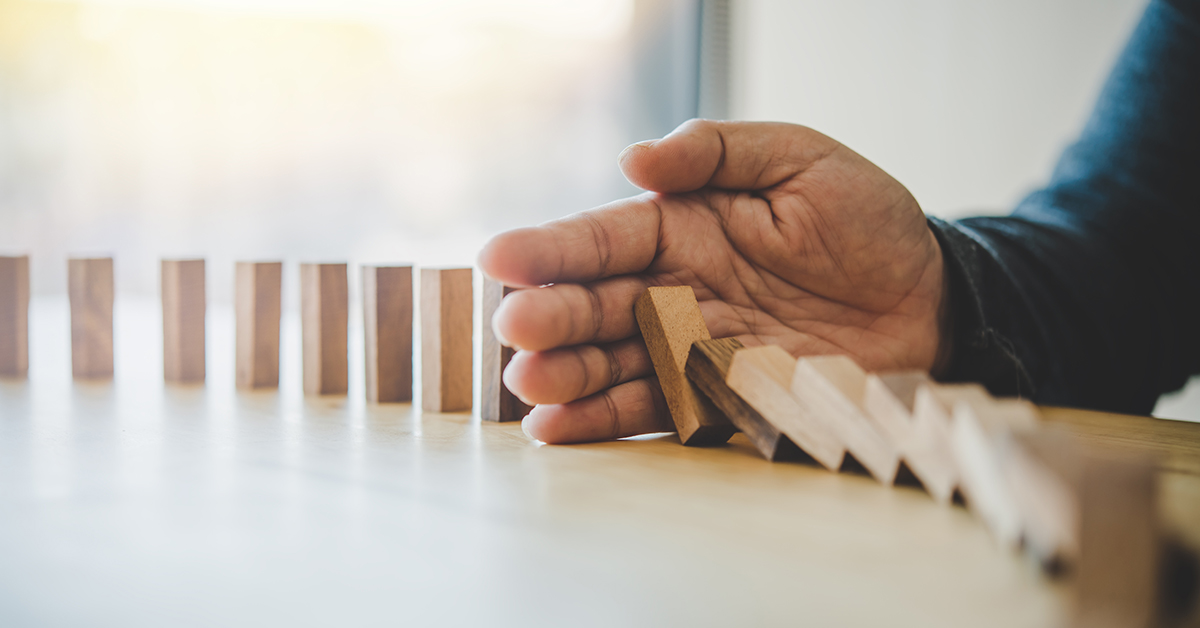 OCTOBER 01, 2021
It's Coming... But When?
Living With Systemic Risk
In the climactic scene from the cult movie classic Big Trouble in Little China, the movie's hero, Jack Burton (played by Kurt Russell) knocks over the first in a long line of Buddha-esque porcelain statues in cursed Emperor David Lo Pan's throne room. Each statue tumbles into the one beside it, one after another, leaving the chamber littered with porcelain shards and Lo Pan's empire in a state of collapse.
It's an illustration of "systemic risk" – an antiseptic regulatory term that refers to hidden threats that could topple the global financial system because of what's known as the cascading effect: the finance equivalent of one statue falling into another. Recently, concerns over "contagion" from Chinese conglomerate Evergrande's solvency have rattled global markets and brought the specter of systemic risk to the forefront yet again.
With financial assets at historically high valuations and excesses popping up across the board, there is growing concern about where the cause of the next financial crisis might be hiding.
Fingers have been pointed at:
Retail "meme" trading in stocks like GameStop.
A default by the U.S. Treasury if the debt ceiling isn't raised.
Negative interest rates.
Bitcoin volatility.
Swap contracts.
The new "wild west" of decentralized finance, or DeFi.
Money market funds (which precipitated the last crisis).
Climate change exposure in the lending portfolios of banks and in muni bonds.
Exchange-traded funds.
The surge in private credit.
Growth in margin lending and securities-based loans.
Even index funds.
What makes any and all of these a potential catalyst is, ironically, the complexity and interconnectedness of the financial system that undergirds financial capitalism, the dominant socioeconomic system in the world. One of the wonders of the modern era, our global financial system is actually more subject to collapse than it was, say, a century ago.
On one hand, the regulatory infrastructure is far more advanced, battle-tested and sophisticated than it was after our last two major financial crises, the Great Depression and the Great Financial Crisis a decade ago.
But with complexity comes increased fragility, a point that Nassim Nicolas Taleb makes in his books The Black Swan and Antifragile. Simple systems are resilient. Complex systems are fragile. In today's interconnected global financial system, a shock anywhere in the financial system goes deeper, travels faster and affects other players around the world far more dramatically than ever before.
Any one individual or institutional statue toppling over isn't in and of itself a problem. A recent example of this of Archegos Capital, the family office run by Bill Hwang, which imploded due to leveraged long equity positions embedded in total return swaps.
Multiple financial institutions were dented by their exposure to Archegos losses, including Credit Suisse ($5.5 billion), Nomura ($2.9 billion), Morgan Stanley (nearly $1 billion) and UBS ($774 million). But none so seriously they risked falling over.
Archegos exposed one of the fundamental contributors to systemic risk – lack of transparency. Not one of Hwang's counterparties fully understood the size and concentration of the stock exposure he accumulated because disclosure rules for total return swaps had not yet become effective.
In the wake of the last financial crisis, Congress created a new regulatory oversight body, the Financial Stability Oversight Council (FSOC). Chaired by the U.S. Secretary of the Treasury, it includes the chair of the Federal Reserve, the Comptroller of the Currency (OCC), the Consumer Financial Protection Bureau (CFPB), SEC, FDIC, Commodity Futures Trading Commission, among others. Its job is to scan the landscape for vulnerabilities in both the regulated and unregulated (or shadow banking) sectors of the financial system and act to address them before any meltdowns occur.
The FSOC reported to President Biden last spring that "the financial system is in strong condition... financial risks are being mitigated by robust capital and liquidity levels in the banking system and healthy household balance sheets."
But there are several challenges with the FSOC's early warning system.
First, as Financial Times columnist Gillian Tett wrote recently, it is devilishly "hard to tell where pockets of excessive leverage lie." Second, even when risks are identified, opinions are often split on whether they are systemic in nature. On the one hand, if all the bitcoins outstanding lost all their value "its holders would lose hundreds of billions of dollars but that... fallout would be manageable," the Economist wrote recently. On the other, Tether stablecoins, another digital currency worth approximately $62 billion and only partially backed by commercial paper, are just about the size of the Reserve money market fund whose Lehman Brothers commercial holdings caused it to "break the buck" and precipitated the last financial crisis.
Finally, there is always a tradeoff between protecting against systemic risk and permitting the free flow of capital necessary to fuel economic activity. One analogy used by former Fed Chairman Alan Greenspan has stayed with me over the years. He likened financial regulation to building levees in coastal cities. The question is how high to build the dikes. High enough to protect against a 50-year flood? A 100-year flood? The higher the levee, the better the protection... but the more it costs. The same is true for financial regulation – only its cost comes in the form of reduced economic activity.
Improving disclosure is a relatively low-cost preventative measure. As former SEC Chairman Arthur Levitt declared, "The more you know, the less risk you take." But only up to a point. Taleb warns that "gains in our ability to model (and predict) the world may be dwarfed by the increases in its complexity – implying a greater and greater role for the unpredicted."
Put another way by Taleb: "Globalization has created this interlocking fragility, while... giving the appearance of stability." We must continue to balance regulation and risk to maintain the resilience and vitality of the global financial system.